Using other people's digital content responsibly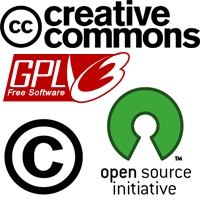 Licence types for e-content
The internet is a huge free resource of useful material. Or is it? Aside from the need to know what is accurate and trustworthy content to use for study-related purposes, internet users sometimes think that anything found on the internet can be taken off and used by anyone. This is not the case. Intellectual property rights apply as much to content the internet as they do to printed materials.

In these activities you will explore issues of ownership in regard to digital content on the internet and find out how to identify what you can and cannot freely re-use.
Activity 1: Who does it belong to?
How much do you know about issues of ownership and use of content on the internet? In this activity you are going to listen to student views about ownership and check your own understanding about what you can and can't do.

Instruction
Listen to three students giving their own views about ownership and the internet. Whose view is closest to your own? Next, read each of the statements that follow and decide whether you think it is true or false. Select the appropriate button and then read the feedback.
Images generated by a Google search can be downloaded for use in presentation slides etc.
Video clips such as those in Youtube can be downloaded to your desktop and modified.
It is okay to link to a website but you should include an acknowledgement of the source.
Nothing on the internet is actually free to use.
You can make extra copies of an internet journal article to give to your classmates.
Copying and pasting text from the internet into your assignment is now accepted practice.
Activity 2: Rules of use and re-use
Institutions, teachers and students are sharing their digital resources for teaching and learning more and more on the web. Resources shared in this way are known Open Content (OC) or OERs (Open Educational Resources). In some case, the content creators or owners give away certain rights to users as well as making the resources accessible through a teaching and learning repository. The rights you are granted as a user may or may not include permission to download, modify, use for commercial (as well as educational) purposes etc. You always need to credit the person who created the materials.

As a student you may well need to search for digital content to adapt for your own purposes. In this activity you are going to explore how to identify what you can and cannot re-use, and what kinds of permission may be granted to you as a user.

Instruction
Look at this terminology used in relation to copyright matters and match each term with its explanation by first clicking on the term on the left and then on a matching description on the right. A line will appear linking the two items. You can change your answers at any point. Check your answers or select the reset button to clear them and restart. Then read the feedback.
© eLanguages, Modern Languages and Linguistics, University of Southampton, 2018. All rights reserved.